H2 HUMMER 5 DOOR 140" SUV LIMOUSINE
THE 5 DOOR 140"H2 STRETCHED HUMMER SUV LIMOUSINE
HAS ARRIVED IN PERTH
THE EXTERIOR COLOUR OF OUR NEW LUXURY LIMOUSINE IS PEWTER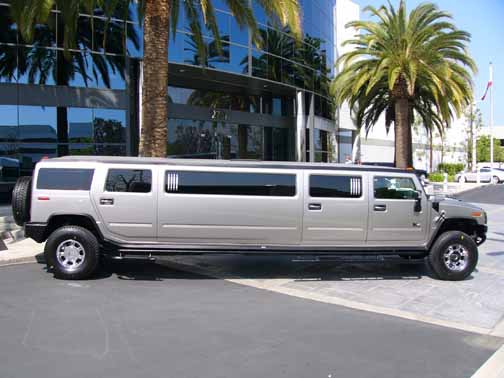 The 2007 140" 5 Door H2 Limousine, the newest addition to our Limousine line-up, offers the maximum seating capacity in a beautifully appointed interior featuring all the latest amenities.
This super-stretch limousine features multiple color LCD TVs, avonite-topped bars with aluminum trim, stainless-steel starlight headliner, luxurious two-tone seating and a hi-end sound system as standard equipment.
The team at Limousine Excursions have spared no expense to deliver a top-quality limousine that is both well appointed and superbly engineered.
Limousine Excursions, once again, delivers a new standard in the limousine industry.
The Features of this Deluxe Vehicle include:
Lounge Style Seating in comfort for 12 Persons in the Rear Passenger Compartment.
Fully Insulated Rear Passenger Compartment.
Digital Touch Rear Overhead Control Panel with Climate Control.
Avonite-topped bars with aluminium trim.
Three (3) x LCD Television Screens.
Computer Controlled Fibre Optic Bar & Accent Lighting.
Stainless Steel Starlight Headliner.
Lighted Rear Vanity Mirrors.
Dual Rear Air Conditioning Systems for Client Comfort.
DVD / CD player, Hi End Speaker System w/Amplifier.
A Flat Floor with More Leg & Head Room than any Current Limousine on the Market.
Assortment of Soft Drinks & Water always available Free of Charge.
On board portable refrigerator to keep those drinks icy cold.
INTERIOR OF THE HUMMER (Sample Picture Only)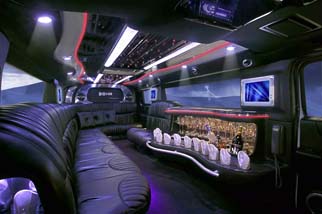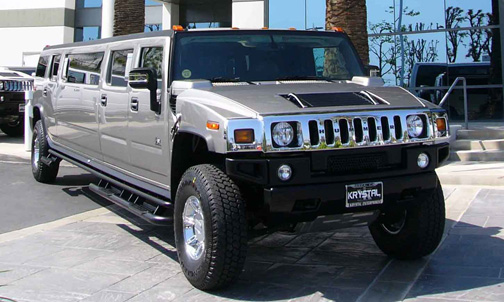 CLIENTS PLEASE NOTE.
DUE TO THE PHYSICAL SIZE OF THIS VEHICLE THERE MAYBE TIMES WHEN IT WILL NOT BE POSSIBLE FOR THE VEHICLE TO ACCESS EVERY DRIVEWAY, ROAD OR VENUE.
THE CHAUFFER WILL ENDEAVOUR WHERE SAFETY PERMITS TO ACCESS ALL VENUES.
HOWEVER IF HE DEEMS THAT THE SAFETY OF THE PASSENGERS OR VEHICLE MAYBE AT RISK THEN HE HAS THE RIGHT TO DROP OFF AT THE NEAREST SAFEST LOCATION.