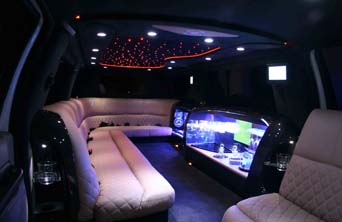 The Features of this Outstanding Deluxe Vehicle include:
Lounge Style Leather Seating for 12 Passengers in absolute comfort in the Rear Passenger Compartment.
Fully Insulated Rear Passenger Compartment specially designed to reduce Road Noise.
Digital Touch Rear Control Panel with Climate Control & Computer Controlled Fibre Optics
Carbon Fibre Bar complete with inbuilt LCD Television and Full Leather Trim.
Perth's only Limousine with its own dedicated Rear VIP Privacy Lounge.
One of the widest Rear doors of any Limousine in Perth for ease of Passenger access.
Triple Rear Air Conditioning Systems for total Client Comfort.
DVD / CD / MP3 player with Hi End Speaker System & 3 Amplifiers, Blue Tooth, Ipod Facility and Five (5) x LCD Television Screens for that Total Audio Experience.
A Flat Rear Passenger Floor, with increased Leg & Head Room, more than most current Limousines on the Market.